*glares at
sweetresent* I do not get giddy after talking to
wattshumphrey.

I had a wonderful and intimate few hours with
wattshumphrey today. Lunch was wonderful, as was mallratting for a while.

My sister was driving me batshit earlier. I have no real reason for my annoyance with her, I think I was mostly annoyed with myself for not opting to spend the rest of the day with
wattshumphrey, I would have liked to spend more time with him today, but neither of us wanted me to get bitchy while he played WoW. I have the habit of either being bored out of my skull while he's playing WoW, or enjoying quality time with a book. Unfortunately, I sometimes put the book down and attempt to converse with him while he's fully immersed in the game, which results in an annoying silence. I did call him a little while ago and kind of made plans with him for Monday. I'm not sure if Mondays are one of his WoW nights or not, but I'm sure we'll figure it out.

This week at work has been a strange combination of fun, and tiring. The end of the season is coming, and the games seem to fly by, yet the homestands feel long. Weird.

Thursday I got a haircut, then attempted to colour my hair. Apparently Garnier Fructisse light golden brown and my usual shade of red equals a brownish red. I like both the cut and colour, but the recent attempts to colour my hair a shade close to my natural colour have left me disappointed. Maybe I should just let the colour grow out on its own.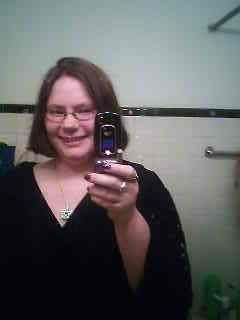 I am going over to Mike & Madi's tomorrow, so I get to see my baby! The plan is to go over there, spend the night and then hang out with them and Mike's family on Sunday. That oughta work, since I haven't seen Mike's family in a while. Strangely, I'm looking forward to seeing the clan. Sue and I have been getting along really well recently, and I've remembered how it used to feel to talk to her.

Also on Thursday I bought a couple of cds at Border's. I bought Hinder-Extreme Behavior and Stonesour-Come What(ever) May. I like the Hinder cd alot, and I think the Stonesour is alright. Stonesour's first cd was better, but maybe the new one needs a few more listens before it fully grows on me. Season two of House is on DVD, and when I have enough money I'll get that and maybe another copy of season one since Konnor fucked up the one I have.

Oh, and one more thing, it shouldn't be legal for someone to be as wonderful, amazing, and sexy as
wattshumphrey is.
*bows* Fin......